Flowroute Videos
As the experts' choice for SIP trunking, Flowroute develops and delivers high-performance communications that empower enterprises, developers, resellers, and carriers with the reliability, control, and support they need to succeed.
E911
Address emergency calls quickly and accurately with E911
While evacuation plans and fire drills can be tried-and-true emergency response tactics, it's also important to know how your network and communication resources can support an emergency response. That's where E911—or enhanced 911 – comes into play. E911 ensures emergency calls are addressed with speed and accuracy by displaying the caller's phone number and physical location to a 911 operator's screen. This is especially important if the caller isn't able to speak or is calling from a noisy location. Find out more about our E911 capabilities in this video.
SIP Trunking
SIP trunking 101: Leaving behind the complexity of legacy systems
The concept of SIP trunking may seem complex but it's quite simple. SIP or Session Initiation Protocol is a signaling procedure that guides real-time communications over IP networks. A SIP trunk allows callers to use their existing internet connection to make calls. It also improves call quality and connectivity compared to legacy phone systems, and is less expensive to design, operate and maintain. Flowroute's use of SIP trunks enables customers the flexibility to choose the calls they need, whether inbound, outbound, international or domestic. Find out more about SIP trunking in this video.
Call Paths
How to optimize your call paths without added fees
Flowroute has architected its network and infrastructure to provide customers with significant capacity, so you can have an unlimited number of concurrent calls paths at any given time. Call paths help allocate capacity to handle multiple calls and numbers, under one account, without impacting call quality. When it comes to call paths, Flowroute's approach is straight forward. For customers, there's no limit to how many call paths per number and you only pay for the numbers you have and the call length. In this video, find out more about call paths and how Flowroute takes the complexity out of telecom.
Cloud-Based Carrier
Take control of your telecom resources with a fully cloud-based carrier
As the first 100% cloud-based carrier, Flowroute puts the control into the hands of our customers so they can take advantage of all the cloud has to offer. But you may ask, what does the cloud offer in telecom? Flowroute provides higher quality and more reliable service at a fraction of the cost. Our telecom services offer increased agility, so customers can scale resources up or down with just a few clicks. In this video, we'll cover the benefits of our cloud-based presence and how it also provides ultimate immutability, so customers can create added value by automating the management of telecom solutions.
Direct Media Delivery
How Flowroute's Direct Media Delivery saves money and increases network agility
Flowroute's status as a cloud-based carrier enables us to provide customers with superior call quality and fewer dropped calls. This in part is due to our unique Direct Media Delivery (DMD) approach. Sending the media component of telephony directly through DMD allows Flowroute to scale our network and save customers money. Rather than charging for call paths, we offer dynamic scalable capacity so customers can scale up—or down— without paying surprise fees. Take a look at this video to learn more about Flowroute's DMD approach.
HyperNetwork
Avoid service interruptions with Flowroute's HyperNetwork™
Flowroute's patented HyperNetwork™ creates an optimal connection that maximizes call quality, reliability, and control. Flowroute's software and carrier status allow us to identify network outages and rapidly reroute an inbound call path to bypass the outage. This video provides an overview of HyperNetwork™ and its role in delivering smooth, high-quality connections that customers can rely on.
International DIDS
Add a local touch to your global expansion through International DIDs
As more companies look to expand globally, they'll need to provide services and a customer experience that support an international audience. Businesses that want to compete on a global scale can leverage International DIDs—or international direct inward dialing – to establish a localized presence in key markets. DIDs are virtual phone numbers that help companies expand their footprint without the need for a physical presence. Find out more about our International DIDs capabilities in this video.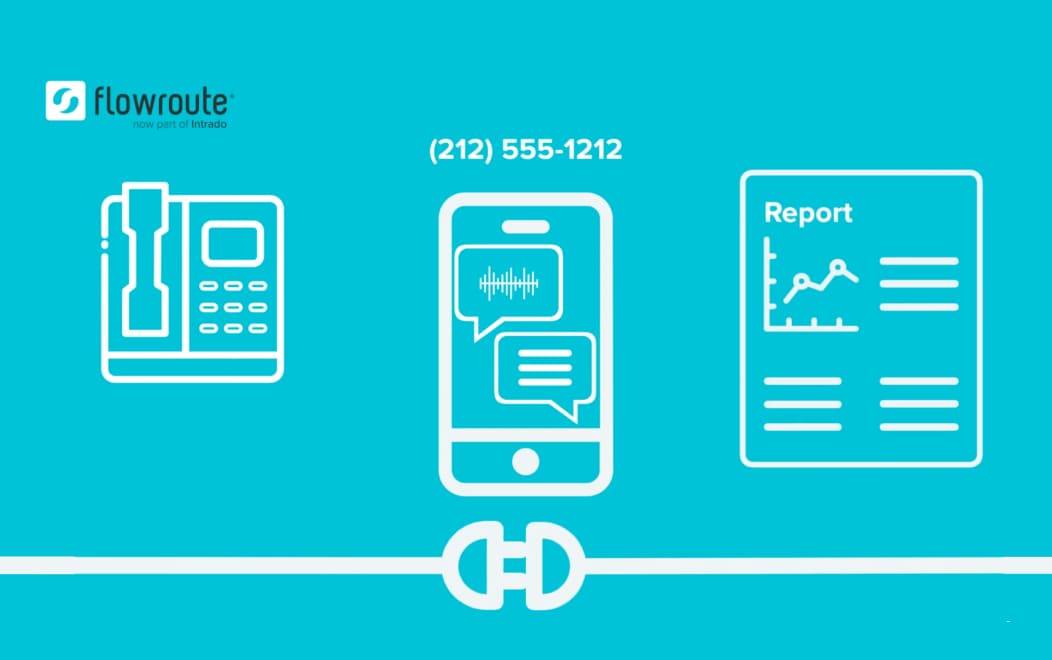 Flowroute's API Library
Take control of cloud communications with Flowroute's API Library
Flowroute's APIs provide developers with direct access to and control over telephony resources. By leveraging Flowroute's suite of APIs, developers can deliver carrier-grade communication experiences to their customers. Flowroute's APIs allow businesses to easily manage their phone numbers, inbound and outbound calling, messaging, and advanced signaling data all in the cloud. In the following video, we provide an overview of the APIs in Flowroute's toolkit and how companies can enhance services and automate telecom processes by gaining programmatic access to cloud communications.
UCaaS and CPaaS
The difference between UCaaS and CPaaS & how Flowroute powers both services
Are you trying to figure out what communications model is best for your business as you migrate on-premises communications system to the cloud? Many businesses turn to either Unified Communications-as-a-Service (UCaaS) or Communications Platform-as-a-Service (CPaaS) model to meet their needs. But what is the difference between UCaaS and CPaaS? And does Flowroute support these two models? Find out more about how Flowroute, now part of Intrado powers UCaaS and CPaaS deployments in this video.
T-38 protocol
Ensure business continuity with Flowroute's T-38 protocol
Modern faxing can be a headache. The smallest interruptions can prevent faxes from transmitting properly, causing confusion and disrupting business operations. But with Flowroute, it doesn't have to be complex or risky. Flowroute has deep expertise with implementing T-38 faxing protocols, which help ensure that faxes sent over VoIP are transmitted securely and successfully. Learn more about our modern and reliable faxing solutions in this video.